Kneading out your worst knots.
Restorative Massage Treatments in Foley, AL
Feeling like your best self requires time, patience, and dedication, but there are moments when the demands of the day become overwhelming for the body. This can quickly lead to muscle tension, stiffness, and a decline in your overall health. This is why, at enrG Wellness, we provide a comprehensive array of massage therapy treatments tailored to address both general discomfort and mental clarity.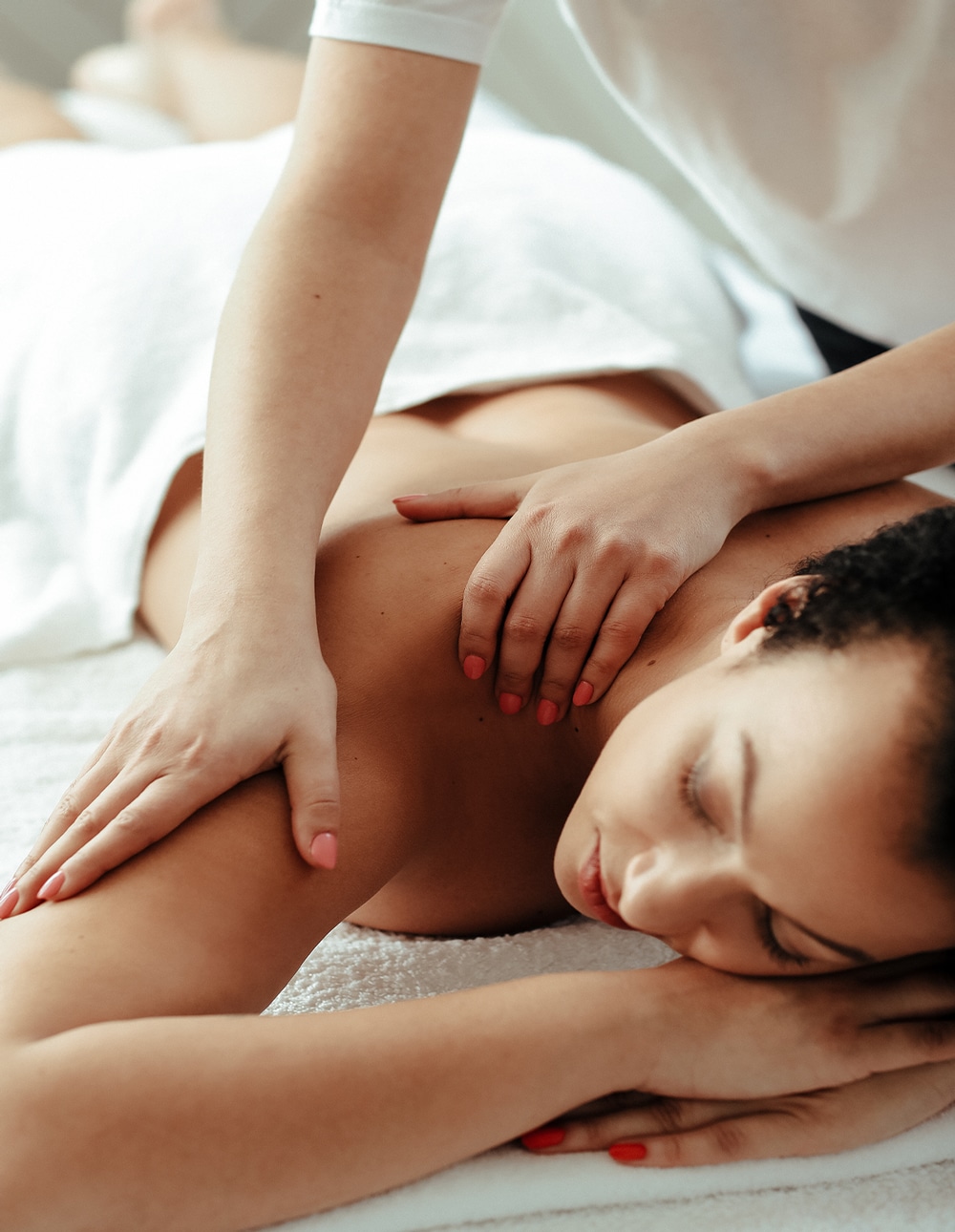 Massage Therapy Has Your Back (and Neck and Shoulders)
Massage therapy goes beyond the basics of providing immediate relief for muscle tension and stress; it is a therapeutic technique that improves your circulation, enhances your flexibility, and reduces anxiety. With skilled manipulation of muscles, soft tissues, and joints through various techniques and pressures, massages allow you to discover a zen state of mind and a refreshed body.
From the direct pressure of a deep tissue massage to the warm sensation of a hot stone massage, enrG Wellness has stacked our services full of beneficial treatments for all sorts of ailments. Those looking for relief from swelling and discomfort can release the toxins with a lymphatic drainage massage. Additionally, you can experience an energy-focused holistic approach to wellness with our unique Reiki massage—designed to reduce stress and promote healing. Whatever your reason may be for booking a massage, the professionals at enrG Wellness have your best interests at heart.
The Benefits of Receiving a Massage
Relieve Tension and Embrace Tranquility With a Relaxing Massage
At enrG Wellness, we're firm believers in the connection between muscle relaxation and mental well-being, which is why we extend our massage therapy services to more than the basics. With the help of our massage therapists, you'll experience a state of deep relaxation in a calm and comfortable environment. With lights dimmed low, heated blankets wrapped around you, and gentle, soothing music playing in the background, you'll receive a massage that not only loosens up those knots but brings you peace and tranquility.
Whether you're in search of a day filled with self-care treatments or looking for relief from discomfort and tightness, massage therapy offers a versatile and natural approach to rejuvenation. Choose a massage from our menu and schedule an appointment with us today.
Commonly Asked Massage Therapy Questions
The frequency of your massage sessions varies depending on your pain levels, physical activity, and medical conditions. For optimal benefits, we recommend receiving a massage once a month.
Wearing clothes can oftentimes get in the way of receiving a fully effective massage treatment. We advise removing all of your clothing, except for your underwear, during our enrG Wellness massage therapies (except for reiki). But we do understand that some individuals aren't comfortable being completely nude.
If you don't feel comfortable removing all of your clothing, please discuss your concerns with our massage therapist, and we'll develop a plan that allows you to enjoy your experience.
Absolutely not. Receiving a massage is very different from getting your nails or hair done, where you typically talk continuously for the duration of your appointment. If you feel inclined to chat during your massage session, you're more than welcome to. However, we suggest closing your eyes and allowing your body to reach a full state of relaxation.
Please be sure to speak up if the pressure being applied is too light or too hard, you have questions, you're uncomfortable, or you're too cold.
Elevate Your Health with Massage Therapy
Some days, you just need a break—from work, your kids, and all responsibilities—and massage therapy at enrG Wellness provides you with that 60 minutes of total reset. Whether you're simply in search of a few minutes to yourself or are in desperate need of relieving muscle tension and discomfort, our friendly, certified massage therapists will have you feeling like yourself in no time. Choose from a deep tissue massage, Reiki treatment, lymphatic drainage massage, Swedish massage, and so much more. With prices set at a fixed rate, you can truly have a relaxing day at an affordable price when you visit our Foley, AL, functional health clinic.
Schedule an appointment with us today to find a massage therapy treatment that's right for you.